Pinguino: where love and ice cream meet
Pinguino, a striking ice cream shop on Leuven's Kortestraat, has quickly captured the hearts of many with their unique approach to ice cream and love. In this interview, we delve deeper into their story and vision, learn more about Marie and Junior, the owners, and discover their bestsellers.
How did Pinguino originate?
Love is at the heart of our business. Pinguino is above all about creating unique moments, moments of love and fun. A few years ago, before Pinguino was born, we had our first date here at this location on Kortestraat. Here we discovered our shared passion: eating ice creams. Without expecting it, our love grew into a beautiful love story. Years later, in 2022, we got the chance to take over this business. It was a dream come true. After a lot of training, education, experimentation and many tastings, we decided to rebrand in 2023 and pursue our own mission and dreams: to create unique moments of love and happiness by doing what we love most: making and selling incredibly delicious ice cream with a focus on purity, quality and innovation. And what name fits the concept better than 'Pinguino'? It is the Italian translation of the word Penguin, the animal that symbolises unity, community and innovation.

A highly professional yet personal approach. In addition, Pinguino appreciates Ranson's focus on sustainable business.
Marie De Merlier

On the facade of your business it says "IJS MET BALLEN". What does this stand for?
The slogan "IJS MET BALLEN" - ice with balls - is a play on words referring to vitality, strength and energy - values that reflect the way we do business.
What are the most popular flavours at Pinguino?
Pinguino's bestsellers include signature flavours Peanut Brownie Fudge and Strawberry Cheesecake, as well as classics such as Bueno, Vanilla and Chocolate. Vegan creamy ice cream flavours, such as Matcha Coconut, are also gaining popularity.
What is your mission and what values do you uphold?
'LOVE' is the key word in everything we pursue
LOVE together | We are on a mission to share our passion: creating scrumptious ice cream that delivers a unique moment of enjoyment with every bite.
LOVE a good live | At Pinguino, we believe in the philosophy of living a fulfilling life by doing what you love, together with the people you love, and repeating it as often as possible.
LOVE for everyone | We aim to offer a moment of joy and love to everyone. That is why you will find a range of ice cream varieties at our place, ranging from low sugar to vegan and high protein. At Pinguino, we have something for everyone.
LOVE our planet | Sustainability and sustainable business are increasingly important. That is why we look for partners who are committed to sustainability.
LOVE innovation | Pinguino focuses on innovation and development. We want to keep innovating, discovering new products and ingredients and offering them to our customers.
Why do customers choose Pinguino?
Customers choose Pinguino for its excellent service, high quality and variety of products, and fair value for money.
Why did you choose Ranson as your partner?
We chose you because of the excellent service you offer. Ranson has a wide selection, flexible return options, friendly and helpful drivers, twice-weekly deliveries, and dedicated account managers who are committed to their customers. In short: a highly professional yet personal approach. In addition, Pinguino appreciates Ranson's focus on sustainable business.
In what ways has Ranson already been able to help you?
We always look for optimisation and the very best for our business. After a long search, we got to the point where we were 100% convinced about the composition of our own basic recipe. We now have this blended at Ranson via a Private Label. It is our own dry substance recipe that is blended and packaged at Ranson's production site. You do this at an, for our cooking kettle, ideal quantity. Very easy because we no longer have to weigh it ourselves every day. This has advantages not only in production (time-saving and no chance of mistakes) but also in purchasing and stock management. It allows us to focus on other pillars of our business. We can spend the freed up time on the presentation of our showcase and, for example, preparing home-made components for the ice cream, such as our cookie dough.
At its heart, Pinguino is all about love, passion and sharing unique moments with their delicious ice cream. These young entrepreneurs have a clear vision for the future, focused on innovation and continuing to surprise their customers with the best flavours. With Ranson as their trusted partner, they are ready to make their dreams come true and give everyone a moment of love and happiness, one ice cream at a time.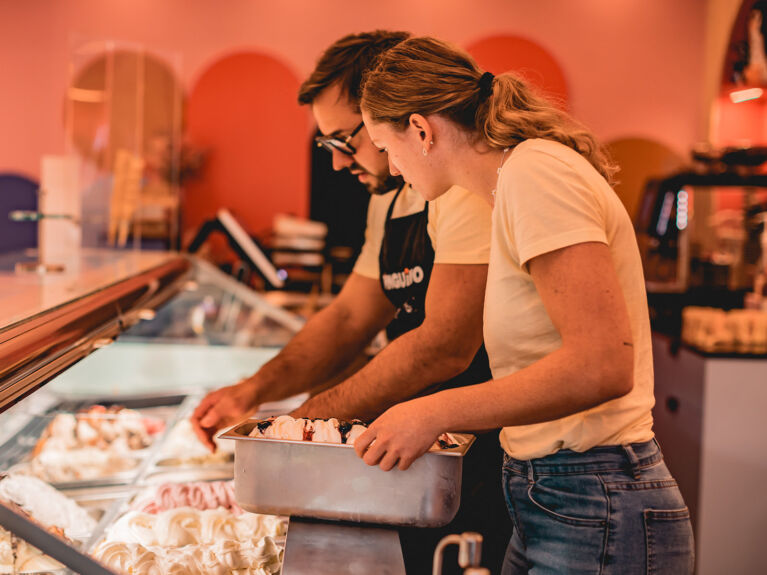 Interested in having the dry raw materials from your own recipe packaged in an ideal quantity?
Then fill in the following form and Wannes De Ranter, our ice cream expert, will contact you with no obligation to explain our way of working.