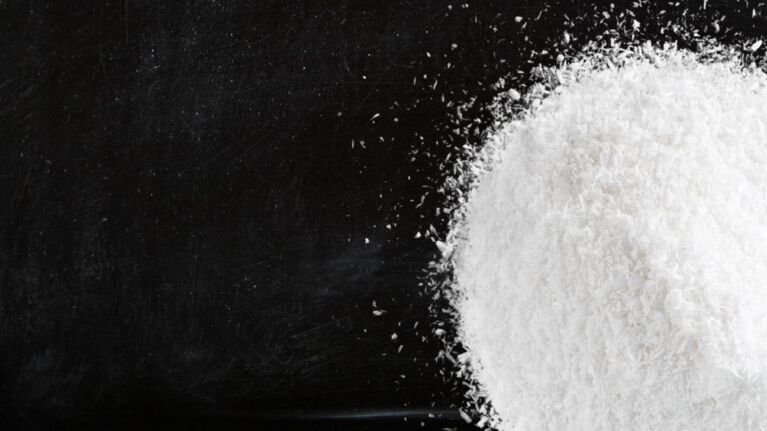 Use of E171
The use of the additive E171 will be prohibited from 7 August 2022.
Beste klant
Gelieve hieronder extra informatie omtrent het verbod op E171 terug te vinden.
Wat?
E171 of titaandioxide is een kleurstof, die wordt gebruikt om levensmiddelen een witte of andere, ondoorzichtige kleur te bezorgen.
Waarom?
E171 wordt niet meer veilig geacht als levensmiddelenadditief.

Wanneer?
Vanaf 7 augustus 2022 mogen producten die titaandioxide bevatten, niet meer verder verwerkt of verkocht worden.

Voorbeeld
Het is zo dat chocoladedecoraties, pasta's, kleurstoffen,… die E171 bevatten, na 7 augustus niet meer gebruikt mogen worden om gebak af te werken. Mogelijks zal deze verordening bijgevolg eveneens een invloed hebben op uw recepten.
Uitzondering
B2C producten (bv. gebak dat rechtstreeks aan de consument wordt verkocht) die voor 7 augustus geproduceerd werden, mogen nog in handel blijven en dus verkocht en geconsumeerd worden tot einde houdbaarheid
Extra info
Vanaf 7 augustus 2022 mogen producten die titaandioxide bevatten, niet meer verder verwerkt of verkocht worden.
Om onduidelijkheden te vermijden werd bij Ranson de keuze gemaakt om vanaf 1 juli 2022 deze goederen niet meer te verkopen. Goederen die E171 bevatten die voor deze datum geleverd werden, zullen niet retour genomen worden.

Wij hopen dat wij u hierover voldoende geïnformeerd hebben. Bij verdere vragen omtrent dit onderwerp kan u ons altijd contacteren via quality@ranson.be.
Recently, the European Food Safety Authority updated its safety assessment of the food additive titanium dioxide E171. E171 is a colour, which is used to provide a white or other opaque colour to food. After considering all relevant available scientific data, EFSA concluded that a risk of genotoxicity from TiO2 particles cannot be excluded. On the basis of these concerns, EFSA's experts consider titanium dioxide no longer safe when used as a food additive.

As a result, the European Commission published Regulation (EU) 2022/63 to withdraw E171 as a food additive. This regulation came into force on 7 February 2022. All products containing E171 may still be sold until 7 August 2022. After 7 August 2022, products containing titanium dioxide may no longer be further processed or sold.
For example, chocolate decorations, pastes, colouring agents, etc. containing E171 may no longer be used to finish pastries after 7 August. It is therefore possible that this regulation will also affect your recipes.

It is important to note that when the regulation comes into force in August, a distinction will be made between B2B and B2C products. B2C products (e.g. pastries sold directly to consumers) that were produced before 7 August may remain on the market and may therefore be sold and consumed until the end of their shelf life.

We have been reviewing our range to ensure that alternatives can be offered for products containing E171. However, at the moment there is no ideal replacement for E171, which may influence our offer. Certain products, e.g. chocolate decorations, may show a slight colour difference compared to the former variant containing E171. Following this situation, we will no longer accept returns of products containing E171.

We want to assure you that we respect the European regulations and will continue to look for the best solution to meet the requirements of our customers.

We hope that we have provided you with sufficient information on this issue. If you have any further questions on this subject, please do not hesitate to contact us at quality@ranson.be.