The award ceremony of the Aspirant Baker competition brought a wave of emotions. Akané Wakasugi emerged victorious. Her joy and elation were heartwarming.
The annual denouement of the Belgian Aspirant Baker Championship at Broodway is always a long-awaited highlight. This year, eight exceptional finalists, namely Jacey De Rydt, Isa Uitjens, Clara Maertens, Matt Gapasin, Akané Wakasugi, Ruben Somers, Kyano Verburgt and Trine-Marie Keymeulen, competed for the honour over two days full of passion and dedication.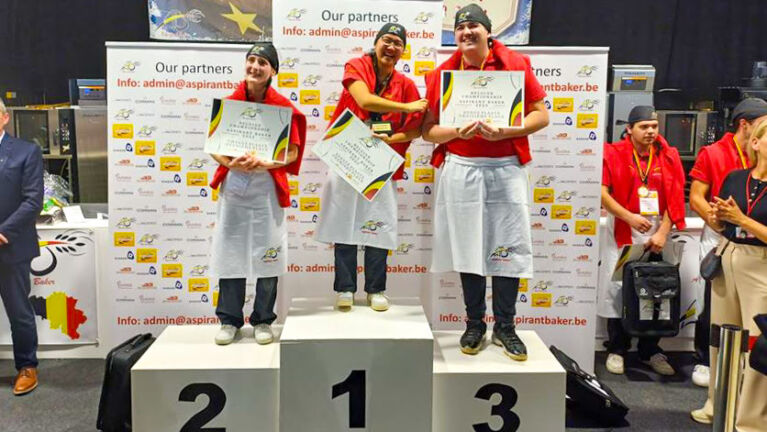 Bij Ranson zijn we blij dat we deze wedstrijd kunnen ondersteunen zodat jonge bakkers een podium krijgen om hun vaardigheden te tonen en hun liefde voor het bakkersambacht te delen. Bovendien is de Aspirant Baker wedstrijd een kans voor deze getalenteerde jonge bakkers om internationale erkenning te vergaren, vaak resulterend in uitnodigingen voor prestigieuze wedstrijden zoals de Mondial du Pain.
In een spannende finale heeft Akané Wakasugi zich als de welverdiende kampioen gekroond, met Clara Maertens als trotse winnaar van het zilver en Matt Gapasin die het bronzen erepodium betrad. Deze competitie heeft andermaal schijnwerpers gericht op opkomend bakkers- en banketbakkerstalent, en we hebben er alle vertrouwen in dat we in de toekomst nog veel zullen horen van deze finalisten op internationale bakkerswedstrijden en in de professionele bakkersgemeenschap.
Proficiat aan alle deelnemers!