How do I fill my shopping cart?
Go to your "Order History".
Find your product by its name or product number.
Click on the product to find out more about it.
Add the desired products to your basket.
When searching for new products, click on "All products" on the left.

Tips
For each product, you can find the quantity you ordered this year and last year.
For each product in your order history, the technical data are available
OB products are products that we order specifically for you, the customer. This means that you may have to take into account a longer delivery time and that it is not possible to return this item, except for quality complaints. It may be useful to first check whether there is a similar article available in your history ('show my best products') that you have already purchased and which is not an 'OB' product
If a product is no longer available, the system will suggest an alternative. If this is not easily possible, your contact person will call you the day before delivery to discuss this
Certain products are only available in multiples. In case of deviation, a higher multiple will always be added to your shopping basket
If an article does not appear in your article history - because you have not ordered it before - you can also look it up and add it via the webshop. In that case, of course, there is no information about the quantities ordered in the past, and you cannot consult the technical data sheet via the website either. This information is only available for products that you have previously ordered from us.
The price on the website is purely indicative and does not take into account personal price agreements, contracts, graduated prices, promotional prices, ... The invoice can therefore possibly differ from the price you see on the webshop.
Placing an order
For the order to be effective, three more steps need to be completed:

Go to your shopping basket (top right) and choose "to order"

Step 1
Check if all products are present in the desired quantity.
Click on 'To order'.

Step 2:
If necessary, enter a reference (e.g. your order form number or any other reference that you would like to be found on your order and invoice so that you can check the order against your internal document). You can also add a comment which will be sent as a text with your order
Choose the desired delivery date.
Click on "Continue".

Stap 3:
Check if all data are correct.
Do not forget to click on "To order", only then will the order be sent to Ranson
Check if you have received an order confirmation in your mailbox (this can take up to half an hour).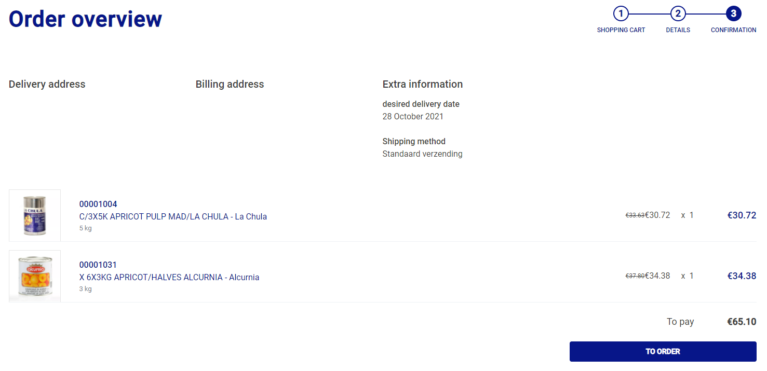 Tips

The order confirmation received via email is only a confirmation that we have received your order correctly. Subject to availability, we will then deliver to you on the proposed date.
You can follow up your orders via "orders". New orders are only visible on the webshop the next day.
Any questions or remarks can always be added as a comment in STEP 2 (in the field 'remarks').
Requesting technical data sheets
Find the product of which you wish to receive the technical data sheet (via the tab "order history").
Click on "technical sheet".
You can consult the product specifications in a pdf.